In Port-au-Prince there stands – or at least there stood, before the January 12th earthquake devastated much of the city – a mural depicting four great nationalist heroes of the Caribbean: Toussaint L'ouverture, Che Guevara, Fidel Castro and Emmanuel Sannon. If you don't recognize the last name, you are not alone, for Sannon's presence among this group might at first seem a little odd. He's not a legendary revolutionary hero, but rather a legendary football player, beloved by Haitians but little known outside the country. Although Sannon had a great professional career in Haiti as both  player and coach, he is best remembered for one illuminated moment on the football field. In 1974, Haiti reached the World Cup, for the first and so far only time in its history. In the group phase, Haiti faced Italy, a team against which no side had scored a goal for a long time. Yet, early in the game, Sannon burst forward, taking the Italians by surprise, and slid a beautiful goal into the net.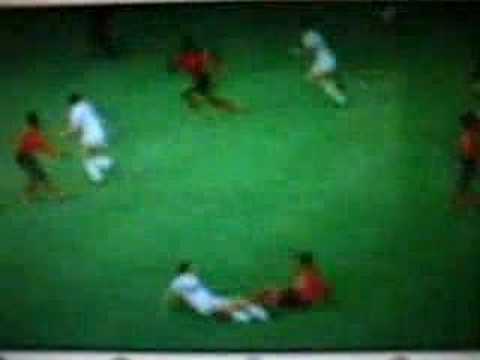 It's surprising, Haitian friends tell me, that Haiti didn't actually shake at that instant as everyone jumped up and down. Maybe it did shake a little. Italy went on to defeat Haiti and ultimately the team didn't make it out of the group phase. But no matter. The goal Sannon scored, that moment of sheer bliss, sustains those who watched, and guaranteed the man a permanent stature as a Haitian hero. When Sannon died recently, a large funeral was held for him, and a monument has been erected in his honour in Miami's Little Haiti district.
If Sannon is important it is because he provided an exception to a rule. Haitians are, largely, football mad, and follow the World Cup religiously. But they have almost always had to do so through proxies, teams chosen as representative for reasons more complicated than simple national affiliation. This is, of course, how the majority of the world's people experience the World Cup, especially in its latter stages. Jamaicans and Trinidadians have each seen their teams reach the World Cup finals, but for Haiti even qualification for the tournament has long seemed unlikely, and will probably remain so in the coming years. Fans turn out in large numbers for Haiti's CONCACAF Gold Cup games, especially those held in Miami, but the team has not done particularly well there in recent years either. Haiti actually found another way into the final of the 2006 World Cup. In a duet with Shakira at the opening of the final game, Haitian-American singer Wyclef Jean appeared decked out with Haitian flags on his hat and pants. In a roundabout way, the Haitian flag made it onto the field for a World Cup final.
Mostly, though, Haitians root for other teams. They are divided in their choice of proxies. A majority have long rooted for and continue to root for Brazil, but there is also strong support for Argentina. The reasons for the choice are, as always, complex, but in some ways boil down to two different versions of making your way in the world: Pelé vs. Maradona. There are also a small number of Haitians who will root for France. A friend who was in Port-au-Prince at the time of the 1998 World Cup final between France and Brazil recalls seeing a sea of Brazil flags in the city, with only a smattering of French flags as you went up the hill toward the wealthier areas of Pétionville.
In 2004, the Brazilian team travelled to Haiti to play a "peace match" against the Haitian national team. In an effort to help stop the political violence wracking the country, fans could gain free entry to the game by turning in a gun.  The best Brazilian players came and were greeted as heroes, Everyone pretty much knew what the outcome of the game would be, and Haitians freely cheered on the Brazil team.
Sannon is actually not the only Haitian to have scored a very famous goal in the World Cup. But you have to go back further in time, and to an unexpected place, to find another one. In 1950, the U.S. team recruited Joe Gaetjens, a young Haitian living in New York, to play on the national team. FIFA and the US football federation were not particularly concerned then about questions of nationality – he and a few other foreigners were simply asked to promise that they would become U.S. citizens as a requisite to being included in the team. It turned out to be the right move. Facing off against the fearsome English team, the group of semi-pros from St. Louis and New York won the game, 1-0, in what is widely recognized as one of the greatest upsets in the history of the World Cup, and is probably the U.S team's greatest footballing victory. Gaetjens didn't naturalize as a U.S. citizen; he, in fact returned to Haiti, where he ran a laundromat and coached youth football. Under "Papa Doc" Duvalier, he was imprisoned and killed – his brother was in the political opposition – and largely disappeared from the story of football until being resurrected recently in books, films, and magazine articles.
With the U.S. scheduled to face England in a rematch this week, the Haitian-American striker Jozy Altidore will go into the game bearing some part of the burden of U.S. hopes, and perhaps history will repeat itself.  Could Altidore be the next Haitian hero of U.S. football?